Description
Immaculate telegraphy seeks to test if electronic communication could have occurred at any point in history given the knowledge base and desire. The project is crafted through an attempt to create an electronic technology from scratch in the wilderness, armed with no modern tools except information from the Internet. In a first step towards a new electronic information network, detached from the physical legacy of industry, my efforts will follow an accelerated timeline of human technology, beginning necessarily in Paleolithic techniques, and arriving at a voltage-producing battery and a telegraph switch, which will permit active electronic communication. Forgoing all tools and materials produced by the artifact legacy we are a part of, I will be attempting to build the voltaic pile battery and telegraph key from metals smelted out of handpicked ore in a primitive pit furnace. As a web performance, I will sit at the completed telegraph station, typing instructions on how to build a telegraph using no tools. A/D conversion through an arduino and web-based Morse code translation will connect my station to the existing Internet. The chain of artifacts leading to electronic communication will hopefully be presented in a physical exhibition concurrent with the web performance. As it is understood now, the tools I will need to create are a flint knife, bow drill, flint axe, stone hammer, charcoal oven, bag bellows, smelting furnace and crucible. The information age presents two divergent possibilities: one is that we are heading to a state in which broad-reaching information is available to every node in the network, and an auto-didactic population could absorb and implement any aspect of the knowledge. The other possibility is that we are on the long stem of an industrial legacy of ever-increasing complexity, a complexity that will become or already has become irreducible. Without this massive chain reaction of industrial feats through generations, and the processes that are constantly obsolescing and becoming forgotten, we could not have the world that we have today. Immaculate Telegraphy tries to imagine that it would be possible to spontaneously restart the system, without the subconscious industrial chain that is implicit in every modern tool. Of course, a laborious telegraph is a far cry from the semiconductors, transmission networks and protocols of our Internet, but the project seeks to suggest that there is a transcendence to information availability, and that individuals at any time could reconnect and maintain such availability, regardless of the state of industry at large.
Project Timeline
March through May
Preliminary internet research has already begun, as well as a successful foray into fashioning primitive rope. Fire by bowdrill has been attempted reaching smoke but not self-propagating flame. Site selection and further trials will take place in the last week of April in Mineral County, Montana, where copper and zinc ore are available at the ground surface. I will also experiment with the form of the documentation.
June through August
A dedicated block of time, at least a month beginning in June at the chosen site, will hopefully allow me to arrive at smelted metal. Preliminary web publishing of documentation will also take place. Once metal is succesfully smelted, the construction a voltaic pile and telegraph switch will be be relatively simple.
August through May
A full internet tutorial will be created demonstrating the process leading to a completed telegraph. A digital interface for the telegraph will be built based on an arduino microprocessor. A programmer will be sought to design a applet that can receive the telegraph transmission and convert it from morse code into text. The chain of artifacts will be shipped to New York. A physical location for a gallery exhibition of the artifacts will be sought, corresponding to the online performance of operating the telegraph.
Budget
This project has recieved the Eyebeam Honorary Residency for the summer 2009, an access award without a stipend. The inital expenses are anticipated to be primarily travel, as the materials will all be free, gathered outside of existing economies. Rhizome's award would help ensure that the telegraph is given a platform for exhibition on the web, and that the artifacts will be able to come to New York for a concurrent physical exhibition.
travel by plane and train $800
web and A/D conversion development and hardware $1000
shipping of artifacts $300
artist fee $1000
total $3100
CV
SELECTED EXHIBITIONS
"Beam me up" Xcult.org Switzerland June 2009 (upcoming)
"Permanent State of Emergency" Eyebeam New York,NY 2009
Pixel Festival Bergen, Norway December 2008
"Naivete" The Metric System New York, NY December 2008
Conflux Festival New York, NY September 2008
"Brainwave: Common Senses" Exit Art New York, NY February- April 2008
"3:2 An experiment in Time Travel" Bemis Underground Omaha, NE January 2008
Eyebeam 10th Anniversary" New York, NY May 2007
Bent Festival New York, NY April 2007
"The Upgrade" Eyebeam New York, NY February 2007
"Machines" The Museum of Ephemerata Austin, TX February 2007-June 2007
"Circuit 1" Eyebeam New York, New York September 2005
"Bjorn Quenemoen, Jamie O'Shea, Jed Clarke" Galapagos Art Space Brooklyn, New York September 2005
"Firefly" Arts Center of the Capital Region Troy, NY July 2003
SELECTED BIBLIOGRAPHY
Debatty, Regine We Make Money Not Art "Conflux:Vertical Bed" 2008
Engadget "Never coming to an Ikea near you" 2008
Heartney, Eleanor Art in America "Brainwave: Common Senses" 2008
Harlington, Marisa Futurelab Vision "A Real Brainwave" 2008
RocketBoom "Artificial Time Travel" February 2008
Stickney, Dane "Artist molds time" Omaha World Herald January 2008
Olson, Marisa "Let's do the Time Warp" Rhizome January 2008
Shore, Stephen "Witness" Nazraeli Press November 2006
Studio 360 "Scent, Rooms and Yodeling" National Public Radio. New York, New York December 2003
Ludovico, Alessandro Neural.it September 2005
RESIDENCIES AND AWARDS
Eyebeam Art and Technology Center Honorary Resident
Lower Manhattan Cultural Council Swing Space recipient July 2008 (upcoming)
Bemis Center for the Contemporary Arts Artist-in-Residence Omaha, Nebraska Nov 2007-January 2007
Eyebeam Art and Technology Center Artist-in-Residence New York, NY Nov 2006-May 2007
Berkeley Film festival Award of Excellence in documentary, for "The Bard Space Program" 2004
Trustee Leader Scholar Program and grant for the Bard Space Program 2002
Recipient of Milton and Sally Avery scholarship for the Arts, Bard College 2002
Recipient of Levy scholarship for the Arts, Bard College 2002
LECTURES
Eyebeam Roadshow Univeristy of Iowa, Iowa city, Iowa November 2008
ArtTalk Omaha Nebraska 2007
The Messhall Chicago, Illinois May 2007
Versionfest Chicago, Illinois May 2007
The Upgrade Eyebeam New York, NY February 2007
Dorkbot Austin, TX June 2006
Circuit 1 Eyebeam New York, NY September 2005
guest lecturer, Thinking physically taught by Kate Hartman ITP 2008
guest lecturer, Home X taught by James Powderly Parson's school of Design 2007
guest critic, Design thesis class taught by Jill Magid Parson's School of Design 2007
guest critic, Color Photography 2 taught by Barbara Ess Bard College 2003
EDUCATION
Bard College Bachelor of the Arts May 2003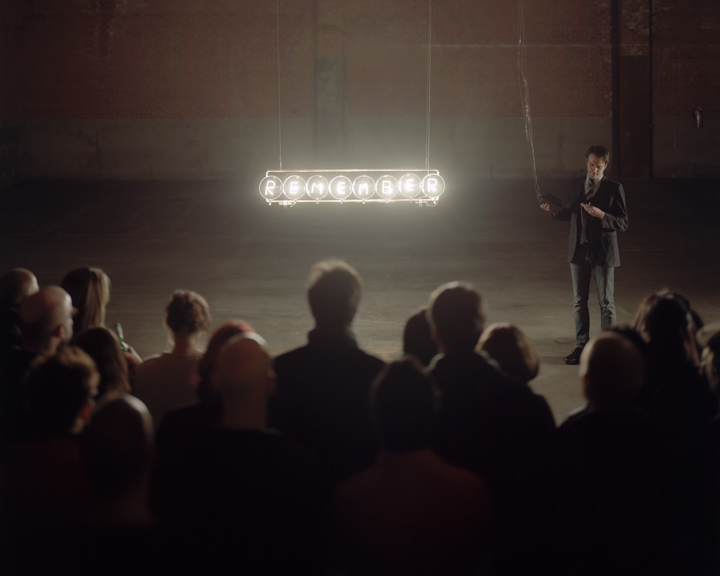 Remember. Automated Memory device using flashbulbs to leave retinal afterimages 2007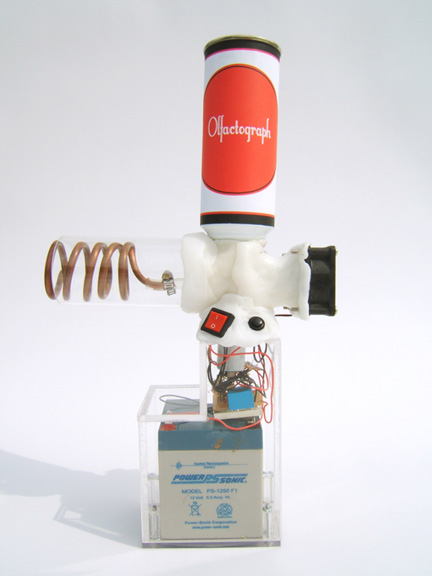 The Olfactograph. Machine to record subtle odors, storing them in glass jars for the activation of olfactory memories. 2007
Alvin. Electronic simulation of a brain using speakers, electromgnets, and metal powder to grow circuits 2005